Welcoming new pupils to our school
Posted date:
Starting at a new school can seem daunting, especially to those who are joining 'late' – ie after Reception.
At HCJS, we are very good at welcoming new pupils, and we often welcome new pupils into our school.
For example, our current Year 6, which numbers 50, was 30 in Reception and our current Year 5, which numbers 52, was 23 in Reception – so many children join 'late'! Or, to put it another way, this academic year, we have welcomed 28 new joiners in to Year 1 and above – 4 into Year 1, 5 into Year 2, 3 into Year 3, 1 into Year 4, 7 into Year 5 and 8 into Year 6.
So, children do join us at any time throughout each academic year and at any stage, and we are good at welcoming them – and of course we work hard to make sure that they join us happily. 
How do we do this?
-    Taster Days are key. Recently we changed our system, so now children in Year 3 and above have two taster days with us. This gives them a good opportunity to get to know us and to feel comfortable and of course it gives us a good opportunity to get to know them too. A couple of our current children are nominated as 'buddies' (they love doing this!) and, once a taster day pupil has arrived, they quickly feel one of the gang. 
-    We fix these days in liaison with you and your child, so we can choose a day when the class have those particular lessons which your child is excited about (be they maths, science drama, art, DT, games, PE or anything else!)
-    We hold a Moving Up Afternoon every June to which we invite all those pupils who will be joining us in September to spend the afternoon with their class and amongst next year's teachers. 
-    We work hard with the children to emphasise their responsibility for each other, and of course looking after new-comers and visitors is very much part of this. When the Head asks in assembly, as he does occasionally, whose job it is to look after new-comers every hand goes up (children and adults!) – of course this serves to remind us all of our responsibility but also serves to reassure and welcome our new comers too. 
-    When new children join us they generally join the same class in which they did their taster days, so they are already familiar with the children and the staff. 
-    Again, they are appointed buddies, and they very quickly become (again) part of the gang.
-    Of course, new children are very much on the radar of the staff. We keep a careful eye on them, and staff are ready to step in and help as required. 
We hope we do a good job of welcoming new parents too. 
-    New parents meet with the Head at the end of the taster days – though of course we will have seen fair amount of each other already. We discuss how the taster days have gone, of course, and I am able to give you feedback too. 
-    New parents find a ready welcome amongst other parents. The PTA plays an active role here, organising coffee mornings for new parents, and also year group events. 
-    We provide new parents with information about the children's timetable, what they need to bring into school when, and other useful information. Our Registrar, Mrs Debenham, has three children at the school (in Years 2, 4 and 7), and is always on hand to answer questions and advise, as are other staff. 
-    Form teachers get in touch with new parents very quickly, and parents find them easy to reach from then on, either by phone, or by email or in person.
-    New parents fill in a survey for the Head and then we all get together a few weeks in, so that you can feedback how things have been – have we lived up to your expectations? How has the joining process been? What tweaks can we make to improve the process?
-    We hold Information Evenings for Parents of all children who will be in Reception or Year 3 in September. These evening are a good chance for new parents to meet current parents over a glass of wine. 
Of course, all the systems in the World do not replace a genuine human welcome and an on-going proactive interest in your child – and we have these in spades, as I hope you will discover.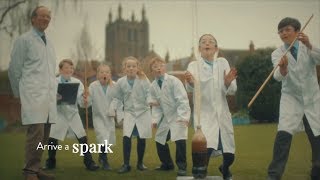 If you would like to find out more about joining our Junior School, please do come and visit us.
To arrange this, contact Mrs Lucy Debenham, our Registrar (01432 363511) or alternatively come to one of our Open Mornings. (Click here for details and to register).
 
In the meantime, you may like to have a look at our Junior School Facebook page or browse through our weekly newsletters to see what we have all been up to recently. 
 
Thank you for reading, and do please feel free to comment below. 
 
Chris Wright, Head of the Junior School, March 2018 (updated February 2019)
Comments
Welcoming New Pupils
As a parent of a Year 3 pupil who joined HCJS in January 2018 I have been so impressed with the efforts made to make our daughter, and us, feel welcomed as part of the school's family. Nothing was too much trouble and she has settled in really well. It is the best decision we have made.
Add new comment