HCS crew triumphs at the National Schools Regatta
Posted date:
Hereford Cathedral School's J16 crew fought off stiff competition to triumph in the recent National Schools Regatta at Dorney Lake, the most prestigious event of its kind.
They dominated the J16 coxless quad race in the event, coming first in the time trial by 11 seconds, then taking gold in the A final - winning by five seconds - ahead of King's College School, Sir William Borlase's Grammar School, Marlow Rowing Club, Kingston Rowing Club and Walton Rowing Club.
The HCS boat finished in an impressive time of 6m 47.65s.
A win such as this is virtually unheard of at this level for J16 crews. Huge congratulations to Jack C, Innes J, Will M-J and Alfie S on this fantastic result. 
HCS Head of Rowing Mr Ben Wellburn reacted proudly to the crew's success: "The boys have done an absolutely brilliant job. Their commitment, hard work and dedication has really paid off for them. This is a brilliant start to the season, and we hope to continue replicating this success across the entire club for years to come."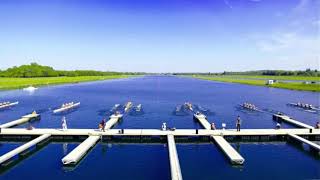 Year 11 pupil Jack C said: "It's a big relief that our hard work through lockdown has finally paid off and we will now concentrate on qualifying for Henley Royal Regatta." Will M-J added: "I was over the moon to win the event, absolutely ecstatic and I couldn't have done it with a better crew. It's great to have the last 18 months of training pay off; also a massive thank you to all coaches involved, in particular Mr Wellburn."
Mr Wellburn also praised the team's demeanour and sportsmanship. He said: "We have tried to build a culture and ethos based on taking ownership, building a legacy and developing the athletes as people first. This team has perfectly embodied this. At the National Schools Regatta, the boys were complimented by a British Rowing Umpire as being "incredibly polite, kind young men".
He added: "Thanks again to Hereford Rowing Club, who have worked tirelessly to support us and these athletes to get them to where they are today."
HCS Headmaster Mr Paul Smith heaped praise on the team: "As far as I am aware this is the first time that the School has won an event in this national competition, so we are particularly proud of the team's achievements. Rowing is a popular sport at Hereford Cathedral School and this excellent achievement is testimony to the dedication and enthusiasm of pupils and staff."