HCS musicians' masterclass with virtuoso Margaret Faultless
Posted date:
Hereford Cathedral School's Junior and Senior pupils welcomed Professor Margaret Faultless to the Music School last Thursday and Friday and had the privilege of performing with Margaret's ensemble 'Music for Awhile' at St James the Great Church, Cradley, on Friday evening. 

Pupils had the opportunity to take part in various masterclasses, either individually or in quartets, with Professor Faultless who is Director of Performance at the University of Cambridge, and Musician in Residence at St John's College. The internationally renowned violinist offered invaluable advice to encourage the pupils to become more versatile performers and to think about the meaning behind their music. The day concluded with a dance workshop run by Katie Lewis, a Cambridge colleague of Professor Faultless, themed around the stately dance, the minuet, which was a popular social dance in the 18th century.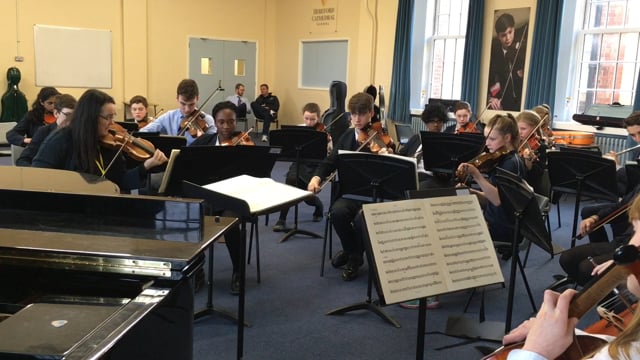 The pupils involved took a great deal from the experience with Professor Faultless, who has a flair for mentoring the next generation of talented musicians thanks to her current role at Cambridge and previous experience as Head of Historical Performance at the Royal Academy of Music, Director of Studies for the European Union Baroque Orchestra. 

Year 9 music scholar Rafferty Y commented: "It was an eye-opening experience that completely changed my perception of Baroque music." Sofia v-W, a Year 7 music scholar, found the whole experience inspiring and fun: "We were doing a march and while we were playing, she told us to stamp our feet on the ground. Not only was it funny, it also got us to feel the rhythm of the piece. I hope she comes back again!" 
Director of Music, Mr David Evans, commented: "Professor Faultless is an inspirational individual who has opened eyes and given students an insight into Baroque performance through both conventional and unconventional methods. We are grateful to have enjoyed two tremendous days with her, funded by the Cecil King Memorial Foundation, which will have enriched our pupils' understanding of Baroque music and dance for life." 
The Cradley concert on Friday evening included 'A Handel Organ Concerto' with Year 13 music scholar, Michael D'Avanzo, as organ soloist, Margaret's ensemble 'Music For Awhile' and the Hereford Cathedral School Chamber Orchestra.
Professor Faultless was impressed with how open the students were to new ideas: "Everyone was keen to find out about the music they were playing and to work together to find their own special musical voice in their ensembles."
The project with Hereford Cathedral School students has been an inspirational experience for all of us in 'Music for Awhile'. The enthusiasm, quality of playing, musicianship and sheer joy of music-making from all the young musicians contributed to a memorable experience, culminating in a spectacular concert in the beautiful church at Cradley."
We would like to thank Professor Faultless for taking time out of her busy schedule to provide inspirational advice to our students and we hope to have the opportunity to welcome her again soon.