While we know that it cannot replace the experience of visiting the school, we hope that our Virtual Admissions Hub will offer you a sense of life at Hereford Cathedral School, the opportunity to explore the school and have your questions answered. 
Our admissions departments are open and continuing to accept enquiries and registrations from Nursery to Sixth Form. We are not able to run our usual open days at the moment, but we enjoyed hosting our first ever Virtual Open Morning for the Senior School & Sixth Form on Saturday 4 July. Please see the link below to watch a recording of the event. 
We are also more than happy to arrange 1-1 meetings with the Headmaster and Head of the Junior School, either online or in person.  If you would like further information or would like to set up a meeting, please do not hesitate to contact us using the links and numbers below.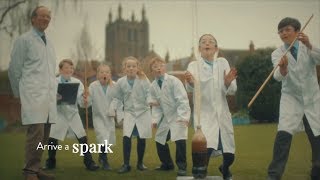 Contact us
Hereford Cathedral Junior School & Nursery
Registrar: Mrs Lucy Debenham
Tel: 01432 363511
Email: enquiry@herefordcs.com
Hereford Cathedral Senior School & Sixth Form
Admissions Officer: Ms Louise Bytheway
Tel: 01432 363506
Email: admissions@herefordcs.com