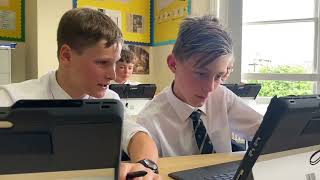 Ensuring that every pupil leaves the School real-world ready and equipped to thrive in a rapidly changing world is at the heart of our HCS Vision. In addition to curricular innovations and opportunities for leadership and service, our digital strategy is a key component of achieving this.
Pupils from Year 6 upwards use personal devices in their lessons, integrating technology into the educational environment in a way that prepares them for the future and embeds the skills and literacies they will need in an evolving employment landscape. Fused with our tradition, Christian virtues, and our commitment to kindness and service, our ambition to ensure that all pupils leave the School real-world ready means that we can continue to strive towards our aspirational vision and values. As a school, we seek:
To meet pupils' academic and personal needs and to promote virtuous character and Christian values;
To provide an environment in which pupils feel valued and learn to work collaboratively;
To provide a balanced, innovative and challenging curriculum with a wide range of extra-curricular opportunities;
To encourage pupils to achieve their academic potential and to foster a culture in which teaching and learning of high quality are given central priority;
To ensure the highest quality of pastoral care, support and guidance; and
To equip all pupils to thrive in a rapidly changing world.
A useful overview of the digital strategy and its future development can be found here. Plus you can hear from our pupils and staff on how they feel it has revolutionised teaching and learning at HCS on our Helping Children Succeed podcast.