The Pre-Prep welcomes children into Reception and takes them through to the end of Year 2. Located in a bright and modern purpose-built setting, we enjoy a family atmosphere with friendly, welcoming staff and lively, happy children. 
The formative years are important, and we place strong emphasis on Numeracy, Literacy and Science, whilst providing opportunities to enjoy a wide variety of activities, trips and skills development. From Reception, lessons in French and Music are provided by specialist teachers, with Drama, Physical Education, swimming and games also included to enhance the curriculum.
A Day in the Life of Reception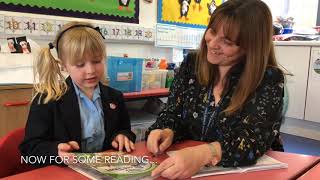 We provide a structured setting in which children are encouraged to respect and care for others. Our standards are high and the children know we expect them to do their best. We encourage positive behaviour and children are rewarded for a wide variety of reasons including effort, thoughtfulness, kindness and good manners.
Areas of Learning