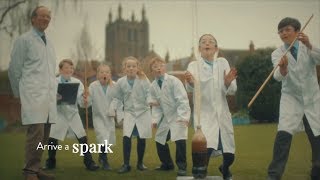 Welcome to Hereford Cathedral Senior School. We provide an exciting and dynamic environment in which young people can feel happy in themselves, secure in their learning, and confident that they are developing the life skills necessary for the challenges ahead.
Within the beautiful historic setting of the Cathedral Close you will find a unique energy and spirit, where expectations are high and pupils excel. Boys and girls from different walks of life make friends, support each other and share a common sense of purpose.
All children have something special - and here the teachers help them find it.
Small class sizes, specialist teaching staff and strong pastoral care ensure that each pupil is seen as an individual. Traditional values are at the heart of what we do and with an excellent reputation for academic, artistic, musical, sporting and extra-curricular success, Hereford Cathedral School is a very special place to be.
You and your family are warmly invited to come and experience our distinctive school for yourselves. I look forward to meeting you.
Paul Smith, Headmaster