HCS launches 'Spread a Little Happiness' campaign
Posted date:
Hereford Cathedral School is launching a campaign on social media to encourage our pupils to get involved in supporting our local care homes during these times of social distancing. How about sending in a video of you performing your favourite piece of music, song or reciting a poem? The aim is to spread some joy in the community when many will be feeling lonely and isolated.
You can be as creative as you like. Why not create a colourful backdrop for your video, use some fun props, or perform in your garden?
Please record your videos in landscape format.
The deadline for sending in videos is 12pm on Tuesday 31 March.
You will need to send your videos via
WeTransfer
to website@herefordcs.com. It's a really simple process, but in case you need some guidance, here are some instructions on
how to use WeTransfer
. 
We will then share a collection of the best videos with local care homes
Hampton Grange
and
Gwen Walford
and on our social media platforms.
If you're looking for some inspiration, here's Year 13 pupil Michael D performing Hornpipe Humoresque (perhaps better known to you as the Blue Peter theme tune) by Noel Rawsthorne on the organ.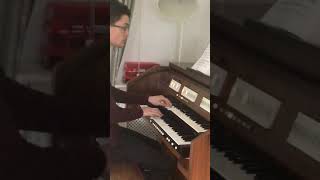 We are really looking forward to seeing what you come up with!
If you need any further assistance please email website@herefordcs.com.